Utaban (2008.05.29) V6 Talk (eng sub)
I actually got this done 2 days ago but i cannot upload to MF using my laptop. Stupid laptop. Luckily, my brother didn't use his laptop this morning so i upload using his laptop XD
Now, back to V6. You should watch this if you didn't watch it yet. But why should you watch it?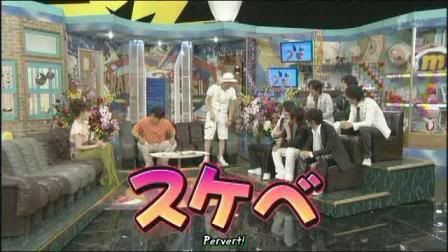 Because you may know the reason why Nakai calls Okada a pervert XD
and don't forget the "over-excited" Morita XD
and most importantly V6's sex life
(but obviously based on Haruna Ai's views)
*__* You may know who's the most "dirty", which V6's member most likely to trade porn videos, Okada's fetish, Sakamoto's blushing, bratty Ken and many more with capable MC Nakai, ridiculous Taka and
4 "hot" ladies~
I don't want to give anymore spoiler so i'll stop at here. Go watch it now!
Utaban (2008.05.29) V6 Talk (eng sub)
Resolution : 640x360
Duration : 17.18 minutes
Size : 172.55mb
Password : hentaiV6
MF
Please say a lot of thanks to
nagoya_mewmew
for translating it at
here
and a special thanks to
toshism